Concord Historical Society 3rd Annual Auction/Dinner Fundraiser
Some 150 CHS supporters along with 15 event sponsors topped the $60,000 mark at the year's premier fundraiser, the 3rd Annual Auction/Dinner Fundraiser held at Centre Concord on Veterans Day, November 11, 2017. These funds are critical to the completion of the Concord Museum and Event Center.
The evening, under the theme "Hail to Our Veterans," was dazzling in setting, socializing, dining, bidding, and recognizing our veterans. Following is some photographic proof for your pleasure.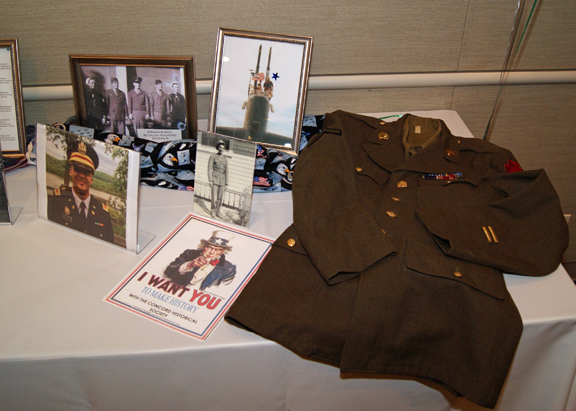 Event sponsors: The Conco Companies, Lennar Communities – El Toro Land, Fairclough Implementation, Inc.: Susan Fairclough in memory of her father Hart Fairclough, Richard Cuneo, Dianda Enterprises, Inc.: George Baldocchi, Merle & Bonnie Hall, Gaunt Iron & Iron Works: Stan Gaunt, International Brotherhood of Electrical Workers, Mr. and Mrs. Brad Morimune, Ouimet Bros., Mr. and Mrs. Frank Strehlitz, Mr. and Mrs. Jim Trolan, Vasconi-Belka Reality: Mr. and Mrs. Peter Vasconi, Lehmer's Concord Buick GMC: Ray Rogers ~ Thank you!